ABOUT US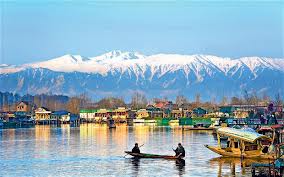 Winter On Dal Lake Srinagar Kashmir
BULBUL TRADING (Bulbul means "Nightingale" in Asian Sub-Continent /Middle East) is a company first established in 1912 by our Great-Grandfather, AZ Bulbul in Srinagar. Situated in the Northern Himalayan State of Jammu & Kashmir, India. This majestic state has always been a favourite Summer destination with the Mughals,British Empire and through to tourists of today. Merchandise sold generations ago is still selling today including the centuries old Handicraft Art Form of Papier Machie, Hand-Embroidered Chain-Stitch in Rugs, Wall-Hangings and Shawls. These items were manufactured by the scores of artisans who worked for my enterprising ancestors. They would all congregate daily at his four storey house overlooking Quashalsar Lake. Our family still lives there today in this two hundred year old house surrounded by ancient walnut/almond & oak trees amongst exquisite gardens.

| | |
| --- | --- |
| | |
| Houseboats on Dal Lake | Early Morning from Houseboat - Dal Lake |
My Grandfather KA Bulbul expanded the business by exporting overseas due to the thousands of visitors who came to his showroom in Srinagar, Kashmir. They could see this beautiful Handicraft being created.. As with many traditional indigenous Art Forms, the manufactuing process is very time-intensive. Scenes depicted are usually Flora & Fauna, also cultural folklore from Kashmirs very long history. Not surprisingly, Kashmiri Handicrafts became very popular. Papier Machie began in Kashmir by skilled craftsmen who were commissioned from Persia to work on the many monuments for the Mughal Emperors in the 16th Century. The majority of these talented people eventually made the Valley of Kashmir, with it's towering Himalyan ranges beautiful inter-connecting lakes, forests,magnificent gardens and quaint houseboats their home.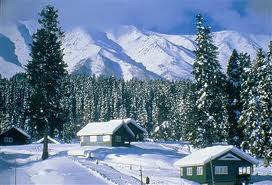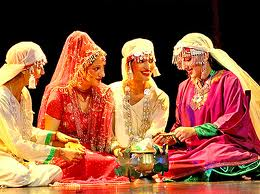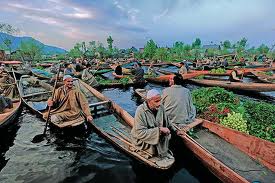 Winter In Gulmarg Kashmir Kashmiri Girls Morning Market Dal Lake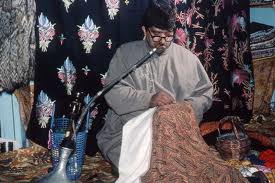 My Father SA Bulbul carried on the business with his four sons who eventually spread out to other regions of India, Kuwait and Australia. We've been Trading in Australia (now 4th Generation) since 1988. Kashmiri Handicrafts such as Papier Machie are the original eco-friendly product. Made from recycled paper (newspaper,cardboard/magazines/boxes) it's manufacturing process today is the same as centuries before. Hand-Embroidered Chain-Stitch Rugs/Shawls/Wall-Hangings/Cushions & Upholstery are made from Wool/Silk & Cotton. The colours used for these items are made using mostly vegetable,Floral & Herbal dyes using traditional methods. The whole cottage industry in Kashmir (Textiles/Furniture/Shawls/Woodware/Papier Machie/Metalware etc) is an industry that was traditionally a generational one. A Father would pass his skill and knowledge onto his sons' as was the case with my family. However, today many of the younger generation gravitate towards other careers such as I.T.,in effect this means there are less people to carry on these traditions.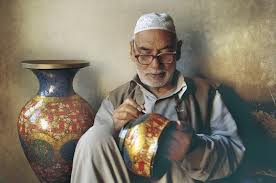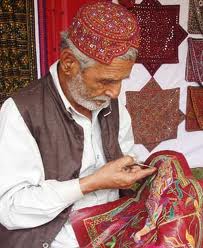 Our Company is fortunate to have a core group of artists who have been with us for decades to continue our wonderful Traditional State Art Form. Even during the turmoil and political unrest of the past 25 years we have adapted our work-environment. Working from their home base rather than venturing out to ours. At times it has been far too dangerous and impossible due to very lengthy military/government curfews, unrest and protests. Still under these difficult and harsh conditions they could still provide for their families. We value their loyalty greatly and over the years have provided interest-free loans in time of need for major events in their lives such as: marriage/education/house extensions/car etc. We are all part of a sustainable unit, everyone as important and valued as the other.
We fervently wish that our traditions can carry on and not be lost as some indigenous cultural art forms have done. Hand-made items will always be appeciated. Much history, time and love is infused into our processes. It has been our workers who dictate and set the price for any work produced. This ethical practice has always been a code our family business has adhered to. The economic global market of today has brought both increased competition (from mass-produced goods within Asia). Kashmiri Artisans have had to adapt and be flexible in the application of their artwork. They are now producing other cultures artwork for buyers from overseas markets, (e.g. Aboriginal Art). By doing this they will ensure (in tandem with their own traditional style) that this individual work native to Kashmir will continue on into the future.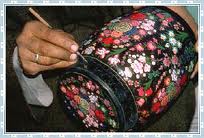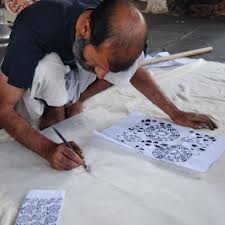 Whilst in Australia we have branched out to include: Jewellery,Homewares and an Australian Souvenir Range which can be found at Major Souvenir/Airport Retail Outlets. We have our own brand "Bulbul Merino" a range of Printed & Hand-Embroidered Australian Merino Woollen Scarves and Shawls. Also we are lucky to have some customers who have been with us since the very beginning back in 1988. Our goal is to provide quality products, competitively priced but most importantly products that have a sustainable and ethical history behind them.
Hasan & Bronwyn Bulbul